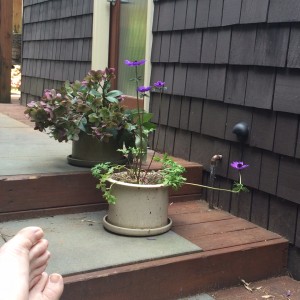 I'm the flower on the right, taking a big detour before going skyward. I messed up today in a way I have not done before, and will not again. I misread my boarding pass and missed a flight.  The penalty was enough to make me learn a lesson, but not so much as to to ruin me, so I am sitting outside, working from an outdoor spot where I can still reach the wi-fi. Fortunately, I was planning a down day before working at my destination, and now I'll just switch it around. I got two new classes submitted and have to finish up the rest of tomorrow's work today, for tomorrow I fly for real. It'll be okay.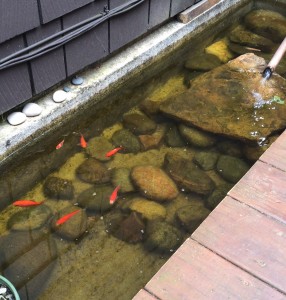 What else can I see from where I sit? Our goldfish. Just a few bucks got us seven goldfish for the pond, but they are shy little buggers. They've come out from under their rock to feed, and maybe by sitting here with them we can become become acquainted.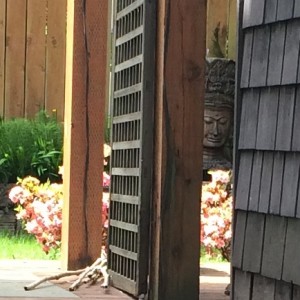 I can also see I missed a spot shaving my legs. I'll spare you a pic of that, but the carving of a Buddhist deity (?) that came with our house and oversees the side yard? I think she noticed.
Grand Rapids, Holland, and Kalamazoo- I'll see you tomorrow.