Click here for Registration Form. It can not be filled in online. Print it and grab a pen. Thanks!
Click here for Information Packet for Attendees. It is password-protected. Attendees please check your email.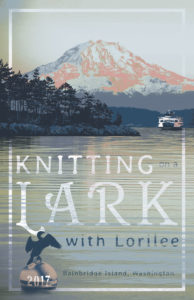 Thursday, July 6 – Sunday, July 9, 2017
Islandwood, Bainbridge Island, Washington
This is a knitting event where the emphasis is on you. Relax with friends old and new. Treat yourself to an all-inclusive, stress-free event amid the towering firs of the Pacific Northwest.
I have long said that my favorite part of knitting is community. Knitting on a Lark welcomes all knitters, crocheters, and spinners of any skill level, any age (21 and over), and any gender. Knitting on a Lark retreats are a safe place to gather, recharge your batteries, and be cared for. Be yourself and follow your whimsy. At this event on Bainbridge Island there will be moments of shared community, and moments for you to wander off into the forest or curl up in bed with some tea and a good book. The focus will be on unwinding. There are opportunities to learn, but all are optional, and none are too time-consuming. Enjoy healthy meals and delicious desserts. Make new friends. Kick back and have fun.
My commitment to you is to organize and communicate details, to respond to your questions and requests, and to ensure a high-quality experience all around. Making sure you have fun is a job I take seriously. I promise honesty, openness, fairness, and enthusiasm as shepherdess of our shared experience.
Our Guest Fiber Colorist
I'm pleased as I can possibly be to announce that Tina Newton will be joining us, guiding us all on a unique dyeing experience! Tina (aka depraveDyer) has been working in the hand-work part of the textile industry as a dyer, yarn designer/maker, small business owner, knit-event planner and dye teacher for twenty-two years. Tina lives in Scappoose Oregon where she spends her days exploring color with yarn, while musing over the mysteries of the universe, accompanied by a lovely team of women, a few sassy felines, and a feisty flock of chickens. She owns Blue Moon Fiber Arts which evolved out her love and passion for color, most especially color on fiber. Tina is mostly self taught so her dye and fiber related knowledge comes from a hands on approach to life. She loves sharing her dye expertise, color sense and experience with others!
Read on to discover what will happen during our Saturday learning time.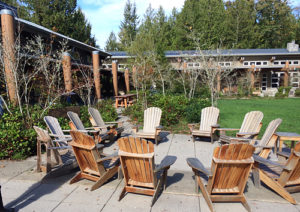 Outdoor Knitting Circle
Here is the best way to follow this event and chat with each other.
Join the Lorilee Beltman group at Ravelry.com and follow the Knitting on a Lark | Bainbridge Island | 2017 thread. I will also be posting on Instagram under Lorilee.Beltman, #KnittingOnALarkWithLorileeBainbridge2017 (It's a long handle, but once you key it in it should easily pop up for you.)
After registration, I will stay active in that thread and also communicate with the group using email. Your contact information is shared only with your roommates. I respect your privacy. Further sharing can be done on your own.
About Islandwood
While it's a privilege to gather with knitters anywhere, this venue uses the revenue from our event for their mission: Environmental Education. This feels right!
"IslandWood's mission is to provide exceptional learning experiences and to inspire lifelong environmental and community stewardship."
Islandwood is on Bainbridge Island, just a ten-minute drive from the ferry landing and the the island's shopping and dining district in downtown Winslow. The island is reached by car from the south, west, and north, but from the east it is a 35-minute ferry ride from downtown Seattle.
Lodging. Scroll through the photo gallery at the top of the linked page.
Food. Oh, my the food!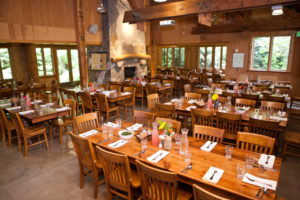 Dining Hall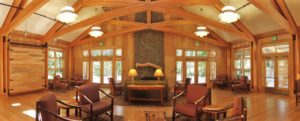 Our Lodge Great Room
About Lorilee and Knitting on a Lark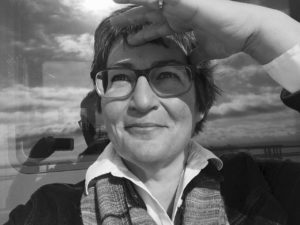 Selfie on the ferry.
My experience in the knitting world began in 2005 with five years of  yarn shop ownership. City Knitting in Grand Rapids, Michigan was where I fell in love with knitters. Since 2010 I have taught, and continue to teach, at about a dozen national events per year including Stitches Expos, Vogue Knitting, cruises, and at shop and guild events. In the past twelve years I have taught students at national knitting events and have organized events for hundreds of attendees, including an event in 2016 at Islandwood. (We all loved it there!) If you want to read more about me feel free to do so at my website.
(Factual tidbit: My first time teaching outside the shop at a national event was for Sock Summit in Portland, Oregon in 2009. Tina hired me.)
I do love teaching, but I also enjoy wearing the event-coordinator hat from time to time, enabling others to strengthen knitting bonds in their community.  The feedback I've received from all of these ventures fortifies me as I start this additional chapter, Knitting on a Lark retreats.
In 2017 Knitting on a Lark/Bainbridge Island will have a relaxing vibe. It seems fitting. Heads up: for 2018 I have something much more adventurous in the works, a tour involving flights over oceans and four nights each in two cities I've longed to visit (details coming in late July, 2017). Join me. I welcome you!
Shopping
This event will not have a marketplace with vendors.
Shopping opportunities abound in nearby Winslow, otherwise known as the downtown of Bainbridge.
The De-Stash / Re-Stash / No-Cash Yarn Bank
Attendees are invited to bring with them lovely skeins in excellent condition that no longer have intentions attached to them. Pick up something from the bank in exchange. Unclaimed yarns remaining at the conclusion of the event will be re-homed to a local Girl Scout troop.
Rates for Knitting on a Lark | Bainbridge Island,
July 6 – 9, 2017 include:
Meals for three days.
All meals from Thursday dinner through Sunday lunch. Meals are served family style so everyone gets their fill. All dietary needs are discreetly met by the chef.

Coffee and tea service is nearly always on. Snacks provided.
Lodging for three nights.
Single occupancy room (two available) $1015.
Double occupancy room (about seven available) $915 per person.
Triple occupancy room (about four available) $885 per person.
Quadruple occupancy room (about three available) $855 per person.
The configuration of rooms stated above is somewhat flexible. Our group size is limited to 45 attendees maximum, including myself and my staff.
Each guest room has the following: private shower room, private toilet room, sink and vanity open to the room, two bunk beds with the lower a queen and the upper a twin. Rooms occupied with three or four will require able climbers! Our group is all housed in one two-story lodge. It's a comfortable, modern, LEED certified green building. ADA rooms are available. Bedding and towels are provided. Personal toiletries and hair dryers are not provided. An Islandwood staffer with a golf cart is able to assist any of us with concerns over walking between the lodge and dining hall.
We can accommodate a few non-knitting companions at this event. If you want to bring a partner, parent, or non-knitting sibling or friend, we have room for a few of you. Regular rates apply, and they are welcome to full benefits of the event. If you enjoy being with them, I trust we will, too. But if they want to avoid the knitters, there are places to hide!
Programming
Attendance for all programming is optional.
Docent-led tours of Islandwood, one offered each day on a different topic.

Two-hour Sustainable Cuisine class on Friday. Islandwood chef staff take you to the kitchen garden for some gathering before preparing a dish together.

Two brief knitting classes on topics to help you make the retreat project, one hour each, led by Lorilee.

Three-hour Color Magic Class with Tina. 

Join me as we explore the magical alchemy that is color on fiber with plants. In this three-hour class we are going to be experimenting with Eco Printing, otherwise know as "botanical contact printing".

Petals, berries, seeds, bark, leaves, roots and stems hold all sorts of color mysteries. We are going to explore these mysteries with some creative mordanting and a little steam on: a cotton hanky, a wool yarn blank and also a skein of silk blend yarn. I seriously can't think of a better place to learn more about plant color and printing than on the island oasis that is Island Wood.

What you need for this class is a sense of adventure, a love of color and an apron or a t-shirt that you don't mind getting messy. Dyeing is a creative messy business!

You will leave with a new appreciation of the plants and a hanky, yarn blank and skein as affirmation that you can knit and wear!  Since our time is going to be full of dyeing we will also provide you with a set with class notes.

"The real voyage of discovery consists not in seeking new landscapes, but in having new eyes."

-Marcel Proust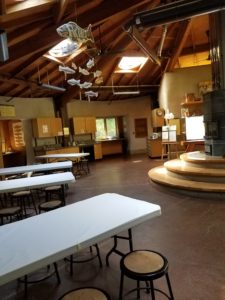 Art Studio where Tina's class will be held
Swag
A custom gift bag containing retreat project and other surprises- value is at least $100.
Other
Access to our common space in the lodge, and the forest beyond!

Assistance with luggage at check-in and check-out.
Not included in the registration fee
Transportation to and from the event. Seattle/Tacoma International Airport (SEA) is the closest airport. From the airport take light rail, taxi, or car to the ferry docks; take the 35-minute Bainbridge ferry to Bainbridge Island (the best part of your travel day); take another taxi, bus, or car to the venue about ten minutes from the ferry terminal on the island. Or take a car the whole way. Detailed help will be provided to registered guests.
We have a bartender and cash bar each evening- bring some cash for drinks. Complementary soft drinks will be stocked in the lodge refrigerator.
Registration Instructions
Registration begins on Sunday, April 23 at 6:00 PM Eastern Time, 5:00 Central Time, 4:00 PM Mountain Time, and 3:00 PM Pacific Time.
Until that time you may ask me questions on Ravelry or by email, and begin making your arrangements. You may gather roommates on your own. However, you do not need to come with people you know- many of you will arrive solo and have me assist you in finding roommates. Please do not let that hold you back.
Download the registration form. It will be available at the top of this page one week prior to registration. Fill it out legibly by hand. Scan it or snap a photo of it and send it to the email address listed. Spots will be filled on a first-come, first-served basis, according to arrival time in my email inbox.  I promise fairness. Those needing help finding roommates will not lose their place while I give you time to let me introduce you to potential roommates and make suitable matches. I have done this before and have been impressed watching anxieties melt as strangers become friends. If your email arrival comes swiftly, but I do not have the room arrangement you wish for, I will preserve your place in line while you consider other options I offer. This process requires about a day of patience while we all get "tucked in" to a bed. Registration will continue until all rooms are comfortably filled.
Once you and I and your roommate(s) agree on an arrangement, Paypal invoices will be sent. Again, I imagine these invoices will be sent within a day or two of your registration, depending on roommate arrangements. Confirmations will be sent upon receipt of payment.
Do not purchase non-refundable airline flights until we are confirmed. The industry states that six weeks prior is a good time to buy flights.
Refunds will not be available unless I am able to fill your spot from a waiting list. If you are not able to attend, you may transfer or sell your registration, but it is expected as a courtesy that you will get the approval of your roommates before making such changes.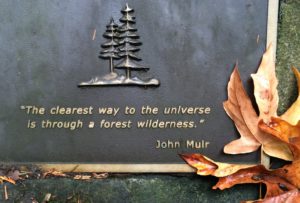 This plaque greets you upon your arrival.
Ravelry
Comments on this webpage are disabled.
Instead, find chat and information on Ravelry in my group. Here.
Schedule (subject to minor changes)
Updated April 16.
THURSDAY, JULY 6
Morning to early afternoon- Guests arriving by ferry and without cars will be met at the ferry to be relieved of their luggage. These guests will entertain themselves in Winslow until check-in time. Catch a taxi or Uber or Lyft ride from Winslow to Islandwood when ready.
4:00 PM – 10:00 PM Guests check in with Islandwood staff and receive room keys. Guests check in with Lorilee for their welcome package and swag bag. Coffee and tea in the lodge until dinner. (Possible check-in at 1:00. Stay tuned.)
4:30 PM    Docent led tour of campus. Sustainable design. This will provide a good orientation of your weekend home.
6:30 – 7:30 PM   Dinner and cash bar
Evening- get acquainted time in the Lodge. Handing out of the swag bags. Set up the winding station. Set up our De-stash | Re-stash | No-Cash Yarn Bank.
FRIDAY, JULY 7
7:00 AM   Coffee and tea available before breakfast
8:00 – 9:00 AM   Hot breakfast
On Friday, you will have chef's cooking class in the morning or afternoon, and the walk in the woods and Lorilee's mini-knitting class when you are not in cooking class.
9:00 – 10:30   Docent-led canopy tour
10:00 – 12:00   Sustainable Cuisine cooking class morning session
11:00 – 12:00    Mini-knitting class with Lorilee
12:00 – 1:00 PM  Lunch
1:00 – 2:30   Docent tour. Canopy tour.
2:00 – 4:00   Sustainable Cuisine cooking class afternoon session
3:00 – 4:00   Mini-knitting class with Lorilee
6:00 – 7:30   Dinner and cash bar
Evening free time.
SATURDAY, JULY 8
7:00 AM   Coffee and tea available before breakfast
7:30 – 8:30 AM   Hot breakfast
On Saturday, you will have Tina's dye in the morning or afternoon, and Lorilee's mini-knitting class when you are not dyeing.
8:30 – 11:30   Color Magic with Tina morning session
10:30 – 11:30    Mini-knitting class with Lorilee
12:00 – 1:00 PM  Lunch
2:00 – 5:00   Color Magic with Tina afternoon session
4:00 – 5:00   Mini-knitting class with Lorilee
6:00 – 7:30   Dinner and cash bar
7:30 – 9:30 S'more Couture in the Friendship Circle. Cash bar, Fashion show and tell, s'mores.
SUNDAY, JULY 9
7:00 AM   Coffee and tea available before breakfast
8:00 – 9:00 AM   Hot breakfast
9:00 AM  Docent-led tour. Topic to be announced.
10:00 AM- noon   Final lodge hang-out time. Unveiling of the dyed yarns from class.
12:00 – 1:00 PM  Lunch
Check out after lunch. Farewells. Luggage help provided.