Bold Move is a skirt pattern released March 2014 as a Plucky Knitter exclusive kit. The pattern will be available as a download only beginning June 1.
Read about it here: scroll down to the posts dated March 07 and March 09, 2014.
For those working on their kits, I'd like to provide as much help as possible. Use the "email Lorilee" page on this website (not the comments section, please) to send me your requests for help or clarity.
For additional help, there is an unofficial knit-along thread on the Ravelry Plucky Knitter group. Lookie over here for that thread. I'll do my best to keep up over there, but feel free to message me here, too.
Question: My Stitch-Map looks a bit fuzzy in my pattern printout. Can I see a better one?
Answer: That was my fault- I reduced the whole pattern file instead of just the photos. Here is a pdf size 8-1/2 x 11 inches where I have made it as big as possible. See if that helps. ETA March 20: Kit knitters received a fresh PDF from Plucky Customer Service yesterday. That PDF has a crisper Stitch Map. This is still here if you need it:
Thought:
An image of the front of the skirt where the decreases occur might be helpful: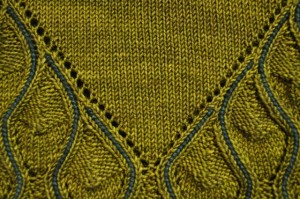 Butterfly question:
Hi Lorilee, I thought I read that you just let the thread for the butterflies hang (no butterflies, bobbins, etc. I would assume this would be messy at first, but if I put my mail color on the outside and had my long single yarns on the inside would this work? I can't wait to get my yarn to start this! Also, I'm not too tall, so should I just work up to the length that I want and do the waistband? Thanks! I'm so excited about making this skirt!
Answer: No matter how [not] tall you are, the length of the strands is so great that, believe me, you will want butterflies, and you will want to keep them on short leashes, hanging about 4-5″ down from the row being worked on the needles. It will become impossible with out them. Keeping them on short leashes keeps them from getting tangled with each other.
This is nothing like a usual stranded or intarsia method of having a couple feet hang without trouble. We are talking about yards of each strand.
I have tried it with shorter strands, but found the trade off for that convenience became awful with more ends to join and darn in. Please trust the bobbins and go for it.