Join me this Sunday, October 5, for an event at The Naked Sheep Yarn Shop on Staten Island. I'm so excited!
Show & Tell
Starting at 1:00 we'll have a trunk show of garments featuring a fun coloring option– vertically stranded color work.  I'll have with me some socks, hats, scarves, and the Bold Move skirt. Feel free to try things on.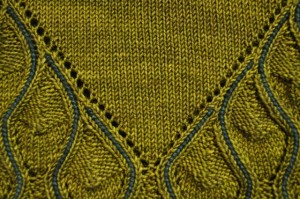 Learn
After about a half hour of show and tell let me teach you how it's done in an informal class session (about 45 minutes long). Bring some worsted weight yarn and appropriate sized needles. Please choose either DPNs, two circulars, or one long circular for magic loop knitting– whatever method you prefer for knitting in the round on a circumference of about 8″. That's what we'll practice on.
Projects!
If you're ready to dive in, let me and the shop staff help you pick a project to try out your new skills. Let's spend the afternoon knitting together and I will be happy to assist individuals with questions as they arise. I'm all yours.
Where?
Location: The Naked Sheep Yarn Shop, 4038 Victory Boulevard, Staten Island, NY 10314
Details: Call 718-477-9276
When:
Sunday, October 5, starting at 1:00 pm.
Then, on Monday…
On Monday the 6th I plan to hang out at the shop to knit some more. I'll update this spot when I know the exact times I'll be there. Again, I'll be happy to help you make progress on your vertically stranded color work.
To get a better idea of what we'll be up to, here are some photos of garments and swatches using the technique.