New in 2016: Knit Faster with Continental Knitting: Color & Texture. (Full price $39.99) Click image below for 1/2 off, $19.99.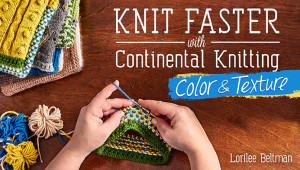 New in 2015: Join my at Craftsy to learn continental knitting. On 2/10 I updated the link above. If you have found me here, you should get a discount to class! Click the image above for a 50% off link which means the course will cost you $14.99.
This is a portrait of me knitting a Kaffe Fassett postage stamp sweater as drawn by my oldest son. He was about eight years old then, in 1998. I still look exactly like this, although that sweater has not been in my lap since.
My experiences as a yarn shop owner taught me the value of delivering an honest answer with kindness. I learned I love helping knitters push through their roadblocks. I also learned that the knitting community is full of interesting people I really enjoy. A Craft Sanity continental knitting video featuring my knitting style has over a million views on Youtube. As a result, I started hearing from knitters all around the world, deepening my attachment to yarny types everywhere.While I enjoy teaching continental to those who want to learn it, I appreciate all knitting styles. I urge my students to try projects that introduce new techniques. Since 2009, I have enjoyed these students at national events and look forward to meeting you in class! I also look forward to making this a site where you can learn more and share in my experiences when I am out and about at knitting events.My articles or designs have been published in The Ultimate Hat Book (Vogue/Soho Publishing), Blue Moon Fiber Arts Rockin' Sock Club, Interweave Knits Magazine, Interweave Sockupied eMag, Twist Collective, and Beyond Toes by Judy Becker. I am a Craft Yarn Council certified knitting instructor, and a TNNA designer/teacher member. Knitty.com is letting me serve the Knitty community as Techniques Columnist starting with the Deep Fall 2015 issue. Tent-camping with my husband and boys has brought me to over twenty National and Provincial Parks. I grew up in Pittsburgh, spent thirty years in west Michigan, and now call Seattle home.
affiliations
TNNA member
Craft Yarn Council certified instructor
other work
Techniques Columnist at Knitty.com.
awards
'Best New Neighborhood Business', City Knitting, Grand Rapids Business Alliance, MI- 2006
'Best Yarn Shop' as voted by readers of Grand Rapids' On-the-Town Magazine. Awarded Gold Medal each time the category was offered- 2008, 2007, 2006
published designs
Vertically Stranded Color work Socks, Vogue Knitting, Spring/Summer, 2015
Azurea Socks, Interweave Sockupied eMag, Fall, 2013
Traveling Vine Beret, The Ultimate Hat Book (Vogue/Soho Publishing)
Lingonberry, Twist Collective eMag, Spring/Summer 2012
Our Paths Cross, Interweave Sockupied eMag (cover design), Spring 2012
Bobsled Mittens, Beyond Toes: Knitting Adventures With Judy's Magic Cast-On by Judy Becker
All of 'er Buttons Mitts, Blue Moon Fiber Arts Socks That Rock Sock Club, January 2012
All of 'er Buttons Socks, Blue Moon Fiber Arts Socks That Rock Sock Club, January 2012
Chameleon, Interweave Knits, Spring 2008
More designs are on Ravelry.com.
former events (alphabetically, partial list)
Craft Cruises Alaska co-taught with Jared Flood- 2011
Green Mountain Spinnery Retreat, Putney, VT- 2015
Kent Needle Arts Retreat, Kent, CT, 2015
Knitter's Connection, Columbus, OH- 2011
Knitting Lab, Interweave, San Mateo, CA- 2013, 2012
Mid-Michigan Knitters Guild, Haslett, MI- 2011 (speaker)
Plucky Knitter annual retreat, Michigan, co-organizer- 2016, 2015, 2014, 2013, 2012
Seattle Knitters Guild, Seattle, WA- 2015 (guest speaker)
Sock Summit, Portland, OR- 2011, 2009
Stitches ETC two-day intensive- West 2012, East 2011
Stitches East, Hartford, CT- 2014, 2013, 2012, 2011
Stitches Midwest, Schaumburg, IL- 2017, 2016, 2015, 2014, 2012, 2010
Stitches South, Nashville, TN- 2015
Stitches West, Santa Clara, CA- 2017, 2016, 2015, 2014, 2013, 2012, 2011
The Studio Retreat, Kansas City, MO- 2015
Vogue Knitting Cruise to Alaska with Cat Bordhi and Lorilee Beltman- 2015
Vogue LIVE!- New York and Las Vegas, 2017, New York and Pasadena 2016, Chicago and Pasadena 2015, Chicago and Seattle 2014, New York City and Seattle 2013, Chicago 2012, Los Angeles 2011
Yarnover, Minneapolis, Minnesota- 2011
teaching in yarn shops
Serial Knitters, Kirkland, WA- 2016
Michigan Fibre Studio, Grand Rapids- 2016
Naked Sheep Yarn, Staten Island, NY- 2014
City Knitting, Grand Rapids, MI- 2005-2009 (my former shop)
Nautical Yarn, Ludington, MI- two events in 2011
YLYS, Battle Creek, MI- 2012
Yarns Unlimited, Sewickley, PA- 2012
learning from online platforms
From Interweave Knits Magazine and Interweave Craft Daily:
From Craftsy:
Knit Faster with Continental Knitting. See the image at the top of this page and click for a link to buying it at half-off ($15). Want to read reviews first? Click here.