Explore various ways that color can be added to your knitting when contrasting colored stitches climb from round to round. These techniques do not inhibit the elasticity of the fabric. Learn how to manage the technique on a simple stockinette stitch swatch, lace motifs with contrasting purls, garter stitch decoration, and more. 
Add a new tool to your color tool box. This class is great for curious knitters who either like to design their own garments or who like to take an existing pattern and personalize it. Sock knitters will learn why this color technique is perfect for socks.
I continue to teach this curriculum at  upcoming knitting events.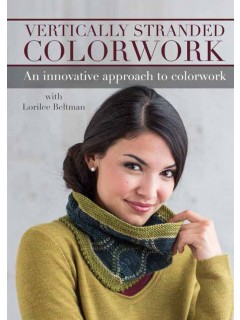 A comprehensive tutorial was taped in the fall of 2014 and is available from Interweave Press. Click on the image above or here for a link to the Interweave Store.
From Interweave Knits Magazine and Interweave Craft Daily:
~~~~~~~~~~~~~~~~~~~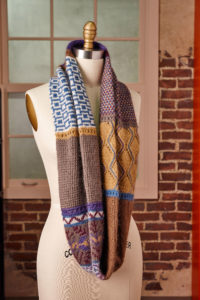 In 2016 I made a class for Craftsy called Knit Faster with Continental Knitting: Color and Texture. It is a class based on a cowl with several knitting patterns in it. One is vertically stranded color work. You can see the section in the photo above– camel color on the right. The tutorial for that chapter will teach you what you need to know to do the work. Here is a link for half off any of my Craftsy classes, including that one.
Coupon Details: Get 50% off the full retail price of select Craftsy classes taught by Lorilee Beltman. Cannot be combined with any other coupons. Expires January 17, 2018. (If reading this after January 17, contact me and I will refresh with a new link.)
Support for Knitters using my Patterns
Some of this will be new to you. Please review the tutorials below for techniques needed in my patterns currently available. These will be helpful for working Blips, Bold Move, Chillaxin', Mosey, Meander, Our Paths Cross, Thistle and Forest Plaid, and Traveling Vines Beret.
Introducing the strands- the first stitch.
When introducing the first stitch of a contrasting vertical strand [CVS],
Hold main color [MC] off to the left.
Insert right needle tip into stitch (holds needles secure and frees up a hand to get your strand).
Hold the long strand leaving a six inch (15 cm) tail hanging.
Wrap the right needle tip as for any knit stitch.
Complete the stitch.
Simply drop both CVS pieces, the tail and the long working piece, off to the right.
Return to MC and continue pattern to next place where another CVS needs to be introduced.
Repeat from 1.
Take time to manage the strands.
Once all the CVS have been introduced, you should have a real mess on your hands. Don't fret. Do stop to manage the CVS.
On a flat surface, lay out your work.
Lead MC away from strands keeping it uninvolved in the mess of strands.
Gather the short tails together and tie them loosely in overhand knots. This prevents accidentally knitting with them, and holds them secure until the following round is worked.  On s small circumference like a sock, gather all the tails and tie them in one knot. On a larger circumference piece like a sweater, tie them together into clusters of 2 – 4.
Manage long strands- read on.
Long strands need to be held on bobbins or center-pull butterflies. Do not make one bobbin per strand- that would make for too many butterflies. Collect neighboring strands together in to groups of two, or four, or whatever makes sense. On a sock, all the strands can be collected into one conglomerate butterfly.
Use your fingers to comb out all the long tails and collect them either into a center-pull butterfly or wind them onto a bobbin such as the Bryson EZ Bobs. Working yarn must come out of bobbins only when pulled.
Comb strands parallel-ish.
Trim ends even.
Starting close to the  knitting and working outward to the ends of the strands, wind strands around fingers in a figure eight until about 8 inches (20 cm) remains.
Use remains to tie knot (half-hitch) around the "waist" of the butterfly.
Tie a second knot and tug it very snug.
Working stacked purls – "Caterpillar Stitch"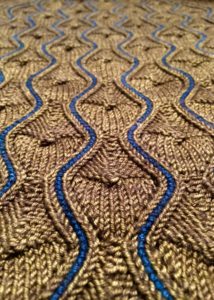 Once all the strands are managed, work can proceed. In the situation where the pattern calls for CVS stitches to stack atop each other, each of them purled, do the following:
Work in MC to the proper stitch.
Hold and keep MC off to the left and behind needles for the duration of the stitch.
With your right hand, reach in from the right with your thumb and index finger and find the strand hanging in its column just below the MC.
Do not wrap it around your right hand as to tension the yarn, just keep it pinched between your fingers.
Bring yarn to front between needles, as one does to purl.
Complete a purl the stitch.
Return CVS to back of work.
Leave CVS to hang off to the right.
Return to MC.
Caterpillar stitch looks its best when the CVS that makes it is tugged frequently. Each time you have a CVS in your hand you can give it a firm yank.
Working a column of stacked knits.